Campaign of the Month: August 2011
Le Ballet de l'Acier
Constantinian Order of Saint George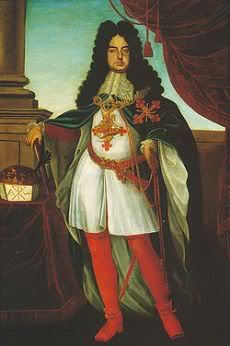 According to historians of the order, the Constantinian Order of St George was founded by the Byzantine Emperor Constantine the Great in 312; the original knights of the order served as guards for the Labarum, or Standard, of the Empire. The original rule dates to Emperor Isaac Angelus in 1191, amended by Emperor Michael Paleologus early in the thirteenth century.
The Angeli Flavii, members of a noble family from Drivasto in Greece, served as Grand Masters of the Order from as early as the fifteenth century, beginning with Andrea II, styled Prince of Macedonia and Duke of Durazzo and Drivasto. The order enjoyed the support of the Church from this time; by 1576 the knights of the order received the right to ecclesiastical benefices in the style of the Knights of St John. The Angeli family long served as stradiots (light infantry) in the armies of Venice, and it is in Venice where the Grand Masters reside.
The Angeli continued as Grand Masters of the Order until 1623, when, under significant financial stress, the Grand Magistery passed to Marino Caracciolo, principe di Avellino.
The knights of the order primarily serve to support the army and navy of Venetian Republic against the Turks in da Mar, Venice's colonies scattered across the eastern Mediterranean.