Campaign of the Month: August 2011
Le Ballet de l'Acier
Order of Saint Stephen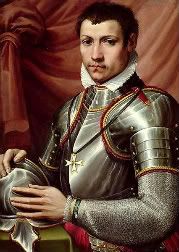 Founded in 1561 by Cosimo di Medici, duca di Toscana, the Order of Saint Stephen ( Ordine di Santo Stefano ) is a military order established for the protection of Christians on the sea and the shore from the infidels, liberate Christians held in slavery, and defend the Church and the Faith. The order immediately distinguished itself, aiding the the Knights of Saint John during the seige of Malta by the Turks. The knights of St Stefano fought alongside those of the soliders of Venice and hospitallers of St John against the Turks and Barbary corsairs throughout the Mediterranean for decades, at one point controlling a fleet of forty-five galleys.
By 1621 however, following the premature death of the grand duke, the cost of operating the knight's fleet became prohibitive; moreover, the merchants of Livorno who were the main source of trade between Italy and North Africa, complained that the knights of Santo Stefano were bad for business, and the order has begun to decline.
Knights of the order must be of noble or gentle birth and uphold the statutes of the order. Though associated with the Medicis and Tuscany, the order is technically a religious foundation of the Church and therefore cannot be dissolved by secular authority. The home of the knights is in Pisa.