Campaign of the Month: August 2011
Le Ballet de l'Acier
Dominicans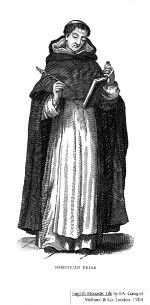 Established at Toulouse in the early thirteenth century, the Order of Preachers would later take its name from its founder, Saint Dominic. The Dominicans are a mendicant order; the friars are supported by alms like the Franciscans, not estates and rents like the Benedictines. The friars, dressed in their white habits covered by a black cloak, are expected to be strong orators, able to literally preach-for-their-supper, and knowledgeable in theology. To this end the Dominicans often follow a calling as missionaries and educators.
The Dominican order arose in the heart of the Cathar communities in Languedoc and one of the first missions of the order was to preach against the Cathar heresy. Dominicans were selected to lead the Inquisition in France, and later in other countries as well, given their strong theological training and devotion to saving the souls of the heretics.
Dominicans in France are also known as Jacobins.