Campaign of the Month: August 2011
Le Ballet de l'Acier
Le Palais du Parlement du Dauphiné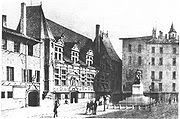 The Palace of the Parlement houses both the Parlement de Dauphiné and the Cours des Comptes for the province. The location was selected in 1478 by King Louis XI, but actual construction didn't begin until 1500 under his successor, Louis XII. Built with creamy white limestone from a Dauphinois quarry, the palace features intricate carved woodwork added in 1521 by the artisan Paul Jude. The palace was expanded in 1539 by King François I and again in 1562 by his son, Charles IX; the elaborate woodwork of the original structure was extended with each expansion.
The palace includes a chapel and a prison; prisoners may beg for alms through barred windows from passsers-by.
The Parlement de Dauphiné was the third of its kind in France, after Paris and Toulouse, a tribute to the traditional independence and self-governance of the Dauphinois; unlike other courts in France, the magistrates and other officials in Grenoble come from the oldest and most distinguished sword noble families of the province, an extension of their traditional feudal roles as dispensers of justive. The parlement is notably staunch in its virulent opposition to royal taxation.