Campaign of the Month: August 2011
Le Ballet de l'Acier
Order of Saint Jacques du Hault Pas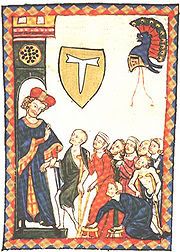 Founded in the late twelfth century by Matilda of Canossa as the Order of San Giacomo d'Altopascio, this is one of the earliest hospitaller orders, combining the the operation of hospitals and protection of pilgrims with a cadre of knights. Originally established in the town of Altopascio in Tuscany to support pilgrims and crusaders travelling to Rome and the Holy Land, the order later spread across Europe, patrolling the routes travelled by pilgrims on their way to the shrine of Santiago de Campostela. Many other hospitals and commanderies were built, including the Église Saint-Jacques-du-Haut-Pas in Paris.
In 1459 Pope Pius II suppressed by papal bull five small hospitaller orders, including San Giacomo d'Altopascio, and assigned their assets to a new order. However, this suppression was incompletely carried out, and the order continued to control its assets across Europe. In 1587, the order was suppressed once again by Pope Sixtus V; its Italian assests were merged with the Order of San Stefano. The French knights, however, continued to control the order's commanderies in France, and the order of Saint Jacques du Hault-Pas continues to serve the hospitals established in earlier centuries.
The order is also referred to as the Knights of the Tau. The knights of the order take vows of poverty and chastity. Military training is not required, but as this small order draws most of its members from the lesser nobility, many of the knights possess such skill anyway.