Campaign of the Month: August 2011
Le Ballet de l'Acier
Anjou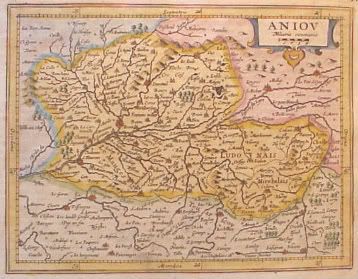 Bounded to the north by Normandie, to the east by Touraine, to the south by Poitou, and to the west by Bretagne, the province of Anjou lies in the lower reaches of the Loire River valley. Anjou takes its name from the Andécavii, Gauls who inhabited the region at the time of the Roman conquest. The landscape is marked by rolling hills separating tributaries of the Loire, including the Vienne in the south and the Petit Loire, Sarte, and Maine in the north; the latter tributaries joing the stream of the Loire at the provincial capital, Angers.
After the fall of the Roman empire, Anjou became a Frankish county, threatened by the Bretons and Normans who picked away at the count's domain. The steward Fulk the Red usurped the county in the tenth century and succeeded in recovering much of the land lost to the dukes of Bretagne and Normandie and with his descendents succeeded in conquering the counties of Nantes and Maine as well. In time the counts of Anjou came to rule Normandie as well as the ancient duchy of Aquitaine. In the twelfth century, Henri II of Anjou succeeded King Stephen of England, establishing the Plantegenet dynasty. Henri's son, the crusader Richard le Coeur-de-lion , succeeded Henri and was succeeded in turn by his brother, Jean. King Jean's French possessions were confiscated by King Phillipe II Auguste and Jean's army was defeated. The lands of the Angevins, elevated to a duchy in the fourteenth century, were eventually incorporated into the domaine of France for good following the death of le bon roi René I, King of Naples, in 1480.
Blessed with a temeprate climate, Anjou produces white wine, wheat, rye, nuts, chestnuts, cattle, fresh fish, flax, hemp, saltpetre, brandy, prunes and other fruit, vinegar, honey, and white wax. Marble quarries and a few iron mines can be found here, and oak and beech forests are abundant as well.
The governor of Anjou is assisted by a lieutenant-general, two lieutenant governors and several town and fortress governors.
The province is notable for a large concentration of troglodytic residences carved into the cliffs of the river valleys.
Cities, Towns, and Castles
Chateau-Gontier
La Fleche
The Landscape