Campaign of the Month: August 2011
Le Ballet de l'Acier
Bourgogne

Bounded by Champagne in the north, the Spanish-controlled Franche-Comté, or county-palatine of Burgundy, and the Suisse confederation in the east, by Lyonnais to the south, and by Nivernais and Bourbonnais to the west, the province of Bourgogne roughly corresponds to the Duchy of Burgundy, itself once part of the medieval Kingdom of Burgundy.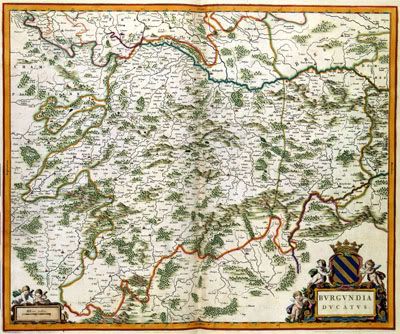 Several rivers originate in or pass through Bourgogne, including the Seine, Saône, and Yonne; the valley of the Saône, which flows from the Duchy of Lorraine to the north to the Rhône in the south and provides the primary means of communication between Paris and southeastern France and Italy. The Morvan, a granite massif located near the center of the province, is the origin of rivers flowing into three seas, the Mediterranean, the Atlantic, and La Manche
Conquered then settled by the Vandals in the fifth century, the lands of the current province of Bourgogne were the northwest frontier of the Kingdom of Burgundy, which reached from present-day Savoy to the palatinate of the Rhine. Incorporated into the Frankish kingdom from the sixth through the ninth centuries, the kingdom was partitioned in 843 as part of the Carolingian war of succession, then later joined the Holy Roman Empire in the eleventh century. The Duchy of Burgundy passed into the hands of the Valois' and, despite the efforts of the last dukes of the line, passed into the royal domaine on the death of Charles the Bold, the last duke, in 1477 over the claims of the Valois themselves and the Holy Roman emperors.
This rich province produces abundant grain, fruit, and cattle on extensive pastures; it is also regarded as the finest wine-producing region of France. Extensive forests of hardwoods and conifers provide firewood for Paris and other cities.
The provinicial governor of Bourgogne is usually a Peer of France; the governor is served by a lieutenant-general and six lieutenant governors.
Cities, Towns, and Castles
The Landscape
Dijonois
Autunois
Chalonois and the Forêt de Châtillon
Baillage of the Mountains
Comté de Chalons
Briennois
Mâconois
Bresse
Principality of Dombres
Le Bogey
Gex